Ravaglioli Tire Changers & Wheel Balancers
The Range Includes: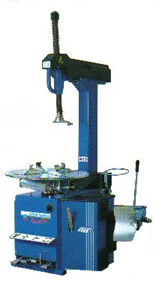 Semi-automatic tire changers: tire changers for cars, motorcycles and light industrial vehicles. The rear of the unit is free from fittings to allow installation in confined spaces. The ideal solution for anyone requiring a simple, reliable and affordable product. (Garages, service stations, etc.) 

Automatic tire changers: tire changers for cars, motorcycles and light commercial vehicles. The air operated arm tilting and tool positioning and locking cut work times to a minimum, ensuring increased productivity for even the most demanding user. 

Super-automatic tire changers: they are Ravaglioli's top-ranking car tire changer range. While ensuring maximum operating efficiency on all car, motorcycle and light commercial vehicle wheels, these tire changers are specifically designed for wide wheels with extra-low profiles. 

Universal tire changers (large-size wheels): 
G90: Electro-hydraulic tire changer for trucks, farm vehicles and earth-moving machinery. 14" to 50" rim clamping. Two-speed, double-direction chucking table with adjustable working pressure. Rim clamping on both central hole and inside diameter. Mobile head-tool carriage for easier wheel positioning. Low-voltage controls on movable control centre enabling operator to choose the most comfortable work position. 

G96: Electro-hydraulic tire changer for 14"-26" industrial vehicle tires. Adjustable hydraulic pressure to avoid damaging rims. Low-voltage controls. Mobile carriage for easy wheel positioning. 
Wheel Balancers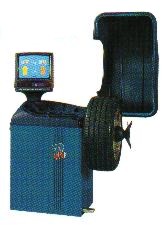 Computerized electronic wheel-balancing units

PN Version with pneumatic locking device 
Suppliers
Dealership and garage equipment from leading manufacturers such as Ravaglioli and RELS.